Throughout our years of operation, we have had many customers consistently say, "When are you going to come out here" "You should see the sights and come meet us".  And what a better way to expand our already great customer service and knowledge than actually start seeing our customers in person!
Well you've asked and we made it a reality to meet our customers and see what they've done in terms of taking their Lexus to the next level.  Sean, our sales & marketing manager, had the pleasure of representing RR Racing in our first trip to Colorado.  The rest of this article, is Sean's account of his visit accompanying with many terrific photos (Sean is also a passionate photographer).  Enjoy!
I had my first visit to Colorado two years ago and instantly fell in love.  The scenery, culture of a new state, and the automotive community. Out here in PA, our season tends to end in October, with the winter season over saturated by Subaru's who tend to fan boy and meet up.  Where as Colorado, there is no stopping the car meets, exotics, domestics and imports all meet up no matter the cold and enjoy the company. My trip out this time was to the city of Denver.
I was speaking with Gabe, a long term customer of RR Racing, for a couple weeks prior, in setting up our first meet and greet photoshoot. He proudly organized the IS-F meet for me. Big thank you to Gabe for his part for rounding up a group of seven IS-F's.  Each one of the cars modified to the owners own fancy — all equipped with the best performance parts RR Racing has to offer.
Needless to say, the evening was amazing. Driving through the streets of Denver to our first location with some detailed graffiti in the industrial park. Shoutout to Chris for never backing out regardless of how crappy the roads got. Lowered cars are always a nightmare to maneuver around in. After that we made our way back to Denver, where I had the pleasure of riding in Gabe's IS-F on the highway. The RR Racing's exhaust (most have our Quad Tip systems that produce a splendid deep racing V8 sounds) tones coming from a seeming-less unsuspecting Lexus never ceased to put a smile on my face.  We arrived back in Denver to a parking garage overlooking the city.
We had a chance to relax a bit as myself and a friend setup the cars for the shoot. Amongst the mingling and getting to know some of the fine details of each car and owner, the underlying question of "Why Lexus" was finally brought to attention.  It's a question that always seems to strike up the best of conversations, especially knowing what makes a Lexus F brand owner a diehard Lexus person. With limitless options out on the market, the IS-F, for what it is, had the made its claim to fame with the V8 sedan along with the rarity aspect.
We ended the night with our shoot on the roof with a younger aspiring model, Skylinn. Who last minute was able to meet up and ironically enough, just purchased an RC350 F Sport. She fit right in and did her thing in the brisk weather.
I asked our customers and friends at the meet to share with us their Lexus and RR Racing story.  Below are some exerts of what they wrote.
---
Xavier Calderon
2014 Lexus IS F
ULTRA WHITE
I bought the ISF simply because I fell in love with the body and sound of the V8, and it has been a dream car of mine since 08.  I really love the interior with the red and black seats!
I am building the car for racing/street use! My favorite mod would be the RR Racing exhaust and tune! It made it a whole different car!
It's a FBO car.  RR racing Tuned Intake, AOS, CF intake elbow, tune and has a full PPE exhaust!
Looking to get wheels and suspension soon and hopefully a supercharger in the near future!
Thank you so much for coming out it was night to meet you!
---
Skylinn Johnson
Lexus
Year: 2015
Model: RC350 F Sport
Color: White
What made you purchase a Lexus over another brand you were looking at or previous car?
Lexus has always been amazing when it comes to reliability as well as quality. I needed that after only having European cars of my own.
What's your favorite attributes about your car?
I love the sharp angles the car has. It shows luxury while still holding onto the aggressive look.
What are you building your car for? (track, street, show, racing)
I'm definitely building my car for show. I've always wanted to have a Lexus to work on and this was the one.
What's currently done to your car?
I have exhaust work done and tint. So far the car has stayed stock since its relatively new.
Being an RR Racing customer what's been your favorite mod or what is going to be your dream list for purchase?
On my dream list there is one main one and that is [Air Lift Suspension] bags. Everyone could always go more low and that's what I need.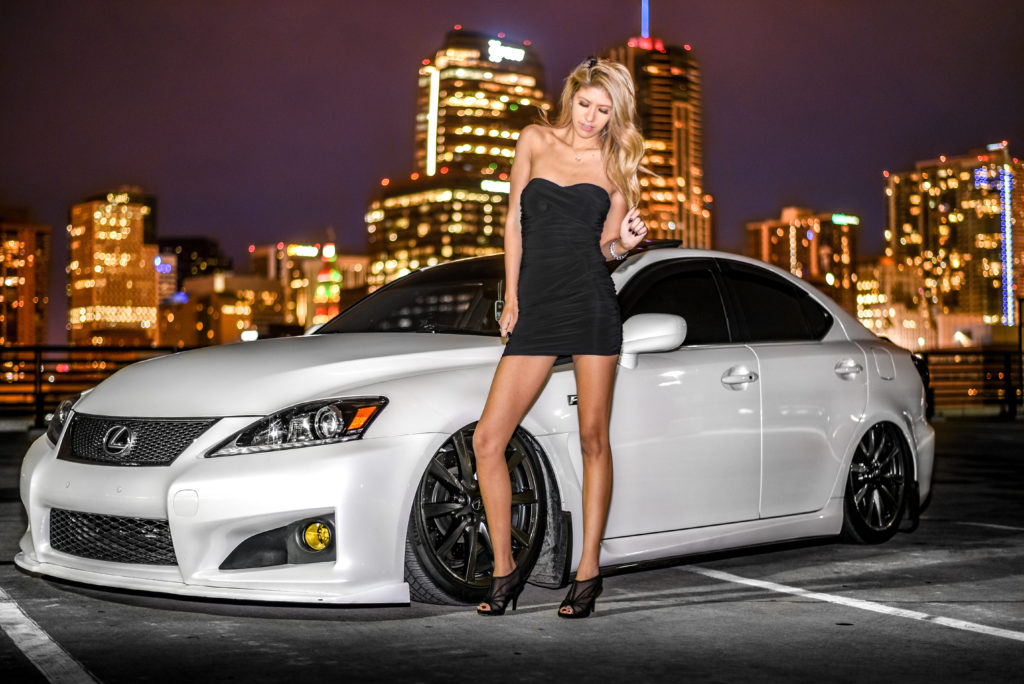 ---
Gabe Herrera
Lexus
Year: 2010
Model: ISF
Color: Ultrasonic Blue Mica
I've been a car guy ever since I can remember back to when I was about 5 or 6 years old and having a fascination with cars and how they accelerate. I remember the first time I saw and sat in a 1988 Honda Prelude and the ergonomics of that car when I was younger were to my young eyes astounding and heads and shoulders above the domestic cars at the time.
That car kind of catapulted me into foreign JDM cars and their quality and attention to detail over the domestics which drew me into that culture. Fast forward over the next 25+ years and I've had stints with the Nissan 300zx Z32 the Acura NSX, Honda Prelude, a Hyundai Genesis and now my Lexus ISF.
I remember when Lexus started their whole campaign back in the early 90's of anti-aging of the interiors and the premise of having the interiors last for decades possibly without too much deterioration compared to domestics or even JDM competitors. Lexus has established it reputation for quality and reliability over the past 25+ years and therefore when I was looking for my next performance sedan I was shifting my attention to the Lexus brand because I had never owned one up until that point.
I remember when the ISF came out in 2008 and what a performer it was for the time (10+ years ago) . When I realized how little they produced and sold by model year I had to have one because of the rarity of the car. I have always been one to have rare cars that not too many people drive and the Lexus ISF fit all the criteria of a performance sedan with power and reliability with a V8!!
I would classify my build right now as FBO streetable and canyon carver. I have not yet taken it to the track, but definitely have done all of the mods to get it to the FBO status with the help of Rafi & Simon @ RR Racing.
My mods include:
GESI high flow metal substrate cats welded into exhaust
Swift springs
Bilstein B6 shocks
VMR V803's 19″ wheels
Endless MX 72 brake pads w/ Endless brake fluid
Red custom wrapped calipers F&R
Vland 3IS tail lights
78 Works headlights 2nd generation
Throttle controller
Since the majority of my mods are from RR Racing. I would say that my favorite mod has to be the headers for the car as that mod truly opens up the 2UR-GSE and works in conjunction with associating mods to complete the FBO status and make the car what it is today.
Thanks again to Rafi, Simon and Sean for setting this meet & greet up!!
Gabe Herrera
Neal Smith
Chris Giovenco
Josh Smith
Joe-Z catback exhaust
Suspension/Handling
Exterior: 5% tintOutcast garage demon carbon trunk Gloss black roof wrap
Toms rear diffuser
Toms sidskirts
BaysonR front lip
2012 Conversion
Headlights3000k fogs
Vland smoked tails
20" Work ST1 Zeast wheels
Interior: Custom coffee stains and some dog hair 😉
Photos taken by:
RR Racing – Sean Anthony (Media/Marketing/Sales)
Sean Kelley – @grim_photography85
Sean Anthony – Shadowed Imagery