Welcome to our Lexus IS-F tech project. Here we will summarize our development of the IS-F, taking it from a great executive sports sedan, and transforming it into a Porsche and BMW fighting weekend track warrior. Sometimes we are asked why we chose the Lexus IS-F. Well, we love the car, it is an awesome chassis, rare, and has an amazing v8. We were also amazed at the lack of meaningful performance parts for this car, but we are changing that, so tune back here often to follow our progress!
Part I: Taking it to the track
The photo at the top of this blog was updated in September 2015 and shows our new aero package for the IS-F. After increasing the track speeds, we felt that it needs a large wing in the back for better traction and handling. We chose an APR wing and adopted it for the IS-F. This wing produces about 800 pounds of force at 130 mph. The wing made a big difference in handling – just see some of the latest videos from our track sessions on our News page.
A front splitter was also added. The splitter was strictly for the track made of composite plywood 😉 Don't laugh this is what many race teams use.
One of our initial goals was to improve braking performance by engineering a fully floating 2 piece front brake rotor. Working in conjunction with our rotor supplier, Coleman Racing, we utilized slightly thicker 360mm by 32mm rotors (OEM rotors are 30mm thick). Compared to stock, these rotors have more thermal mass where it counts, at the brake friction surface. The rotors also feature directional cooling vanes and optional slotting or drilled configurations, dynamic balancing, stress relief heat treatment, and zinc chromate plating to inhibit corrosion. Most importantly, we utilized a fully floating 2 piece design that saves approximately 6lbs of rotating mass per rotor, and allows for thermal expansion and contraction of the rotor under extreme track conditions. So bottom line is, these rotors are tough, light, and will take all the abuse you can throw at them.
In 2018 we later replaced these rotors with an even better design from Girodisc.  Girodisc made a custom ISF rotor for us per our specification utilizing their renown metallurgy use by many Porsche race teams.  
Even before arriving at the track, we became aware of a PCV (positive crankcase ventilation) issue with the ISF. The ISF v8 generates a significant amount of oil and crankcase vapors that get sucked into the intake manifold. As illustrated in the picture below, when simply disconnecting the PCV inlet hose at the intake manifold shows that the pipe is literally wet with oil. Oil getting sucked into the intake manifold leads to carbon buildup on the intake valves, as well as increased engine detonation (pinging) which results in the ECU knocking back ignition timing and reducing power. At the track these effects are only more pronounced as constant high RPM's and high G's lead to significant oil ingestion. We are also reminded of a Top Gear test of the Lexus IS-F, where the Stig launched the ISF with a massive amount of smoke coming from the exhaust (go to 7:58 at
http://www.topgear.com/uk/videos/9971522001 ). Apparently the Stig had been flogging the ISF at the Topgear test track and all the accumulated oil got sucked into the intake manifold while the car was idling on the line.

On our second track day with the IS-F, our Air/Oil Separator system was ready for testing, and we were very curious to see just how much oil the IS-F ingests in the course of just one track day (4-5 20 minute sessions). Let's just say the results were shocking, its amazing just how much oil makes its way into the engine under high RPM and aggressive cornering. All that oil ends up burning on the intake valves or in the combustion chamber, which results in carbon buildup and even worse, detonation which causes the ECU to retard timing based on feedback from the IS-F's 4 knock sensors.
Update August, 2015: Since the release of the original AOS, we developed the second generation with a three times larger canister and a new bracket that fits both the IS-F and RC-F models. See photos below of our second generation AOS.
Part II: Transforming the handling of the IS-F
All car manufacturers, to one extent or another, tune their cars to under steer at the limit. Problem is, if you are an experienced driver, under steer will slow you down. The IS-F tends to under steer more than some of its competitors, such as the BMW M3. The IS-F uses a "staggered" tire setup, with narrower 225mm tires in the front, and wider 255mm in the rear. By upgrading wheels/tires and changing to a "square" tire setup, we were able to virtually eliminate under steer, and achieve a totally neutral handling behavior. Our tire size recommendation is to stay with 275/30R19's or less, or excessive fender rolling will be necessary. With 275/30R19's , only minor adjustment of the fenders is required. The improvement in handling and balance simply transform the car at the track. In fact, we have found that most track prepared RWD street cars run non-staggered setup (with the exception of some mid and rear engine cars).
Another important part we developed that helped tremendously with IS-F steering is the Ultimate Steering Response System (USRS).
Since day one that we drove the IS-F we recognized why the car magazines that tested the IS-F when it came out stated that its handling and steering feel was just not as good as of the BMW M3 – the issue was with its lower control arm bushing.
Toyota uses the same bushing across many Lexus models including the IS250/350, the GS and now the RC and RCF. This bushing was designed to isolate the driver from the road – not only does this bushing deflect laterally under load, but it also deflects fore/aft under braking, leading to imprecise and sometimes "wandering" steering feel caused by movement of the effective contact patch of the tire. All current aftermarket offerings address the lateral deflection, but do little to eliminate the fore/aft deflection that leads to dynamic toe changes under braking and cornering. Please refer to charts below for diagrams of toe change and our lower control arm bushing design.

By eliminating excessive movement of the soft stock lower control arm bushing, we dramatically improved steering response and feel during hard cornering, without the excessive vibration and harshness associated with race-only hard spherical bearings.
The design of our USRS went through three generations – we started with 80 durometer polyurethane bushing, then upgraded to 90A durometer, and now we are developing USRS Race version with a much larger inside shaft and smaller bushing giving the car even more precise steering control for track/race applications.
Part III: Suspension Tuning
Yes, we know there are a number of coilover options for the IS-F, but we decided to make our own. Why? Well, we found that the current offerings did not offer the adjustability options we needed, and with the exception of the $5k Penske shocks, all the coilovers were made in China, Taiwan, Korea, or some other place other than the USA. That said, we teamed up with QA1 and Hypercoil, two of the leading US based shock and spring manufacturers. For our initial testing, we chose the "Proma Star" double adjustable shock for its independent compression and rebound adjustability. These high quality American made shocks are also feature aluminum housings which save 20lbs compared to the stock suspension. Our initial spring choices (F/R) were 14kg/10kg, 16kg/12kg, and 16kg/14kg. For a "streetable" weekend track suspension, we ended up settling on 16/14 spring combination. The higher rear spring rate compared to current offerings results in improved turn-in and transitional response. It does, however, tend to lead to slightly over steer bias handling, so we had to play a bit with the front sway bar. Read onto part IV where we modify the sway bar for free, improve transitional response, and restore neutral handling balance.

Update July 2015: We are still working with QA1 on developing an ultra affordable adjustable suspension for the IS-F. However, we ran into some noise issues that QA1 is working to solve. Meanwhile, we leveraged this experience to develop an ultimate suspension offering with Penske! As we noted above, we first shied away from Penske thinking that the $5k price tag offered by some of our competitors is too cost prohibited. But since Penske is practically in our back-yard, we decided to embark on this project. Within only few months we were able to develop a new Penske based suspension for the IS-F for a much lower price (see our on-line store). We were able to release RR Racing Penske suspension at this price by closely working with Penske engineers and by engineering and manufacturing mounting hardware on our own. We tested this suspension on demanding Pennsylvania roads as well as on the track, and the results were phenomenal. Penske truly lived up to its name!
Part IV: How to upgrade your IS-F front sway bar for FREE
Modifying your car and taking your car to the track can get expensive, so we are always excited anytime we can make a meaningful improvement for free! Luckily the front sway bar of the IS-F has a long and flat flange which allows us to drill a new mounting hole closer to pivot axis of the bar (see pic below).
As you can see in the picture, we drilled a new hole 1" to the left of the original hole. We also had to do some minor grinding of the wheel height sensor tab, and you will also have to shave the sway bar endlink mount. With a handy 4.5" grinder, it takes a grand total of about 5 minutes to do. So by moving the mounting hole 1" closer to the pivot access, you stiffen the bar by about 15%, which isn't too shabby for about 1 hour of work! We highly recommend this mod for those looking to improve transitional response and reduce body roll, especially in conjunction with the 16/14 spring combo we recommend.
Part V: IS-F Exhaust
We started by simply gutting the catalytic converters from the exhaust manifold and adding a complete Borla exhaust system with Magnaflow high flow catalytic converters. We estimate that this added about 30 hp to our IS-F (almost as much as a set of new headers would add).
However, we were not happy with the look of the exhaust tips and the sound. So we developed two new upgrade options for Borla – Quad Tip with Magnaflow exhaust and Quad Tip Bazooka – both axle-back systems that could be bolted on to Borla's piping. With the Bazooka our IS-F does not only run as a sports car on the track but also sounds as an exotic super car! You can listen for yourself on the video below.
Power, Performance and more Power!
We have been working on developing power enhancement for the ISF since 2014. It has not been easy to tune the ISF ECU. Finally, towards the end of 2015 we finally had a break through! With our partner, we developed the capability to read/write to the ISF ECU. This was only the beginning, however. To decode and figure out the ECU maps and parameter handling was another effort. We had the best tuners and engineers working on this project — our chief engineer Rafi Raban for over 15 years of tuning and performance engineering experience and Steve Pearson, who is one of the best tuners in the country!
The results finally came in the form of the first ever ECU upgrade tune for the ISF in January 2016 after over 2000 miles of road testing and road-dyno logging with many more hours spent on a sophisticated Dynojet dyno at a top-notch climate controlled facility.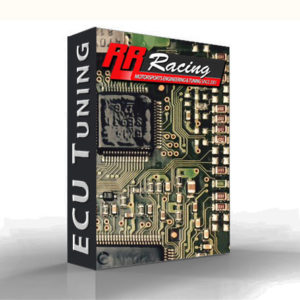 We have developed a full understanding of the following ECU functions/parameters, including but not limited to:
Direct Injection / Port Injection fuel mapping
Ignition control (ISF has base ignition maps, cam timing dependent ignition maps, knock correction maps)
Intake and Exhaust variable cam maps
Torque to throttle mapping (allows us to enhance throttle response)
CEL parameters (e.g., disabling of O2 sensor warning light)
Our on road impressions are that the IS-F pulls much more smoothly and linearly, with excellent midrange and top-end improvement. This was evidenced in our ignition curve datalogs shown below where a combination of ignition and cam timing adjustments resulted in a much more linear and aggressive ignition curve, free of any detonation or large ignition corrections:

After extensive road dyno and datalogs, we headed over to top-notch climate controlled Dynojet testing facility and conducted many hours of dyno tests.
Dyno charts were impressive.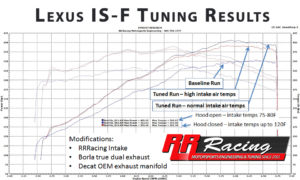 But we were not ready to stop here. What is the ultimate horsepower gain for a normally aspirated ISF? Software tuning cannot deliver the best results without considering the full system and engineering hardware changes. We tested with larger MAF bodies, larger throttle bodies, various headers and exhaust systems, and tested various cold air intake designs. The result is a new Cold Air Intake System combined with our tune and PPE headers (which we found out to be the best headers in the country). We called this RR Racing Tuned Intake System.
And subsequently we packaged the first Performance Upgrade Package for Lexus ISF that can delivery between 60 to 80 whp — the most we think is possible for a normally aspirated ISF!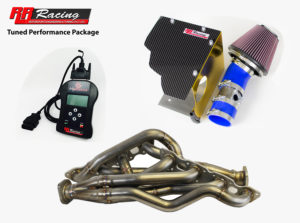 The dyno results, again, were impressive:
So what is next? Of course, the first working supercharger!
We have started testing the latest version of the supercharger two months ago. We decided to take it slow and limit the boosts of the first prototype to only 3.2 PSI. We wanted to optimize the mechanical components, the pulleys, brackets, belts, etc. After many miles of road testing, we finally took the supercharged ISF to the track on May 21, 2016 at the Pocono Raceway.
Pocono Raceway is a very fitting track for supercharger testing combining both superfast straightaways with hairpin curves.
Next we are adding more boost to find out the best balance between power and reliability. Stay tuned for more update on this exciting project!
May 30, 2016 we Dyno tested the supercharger with a little higher boost of 4.0 PSI, we are getting very decent results of over 500 whp.   We will continue to test the system at this boost level before increasing the boost.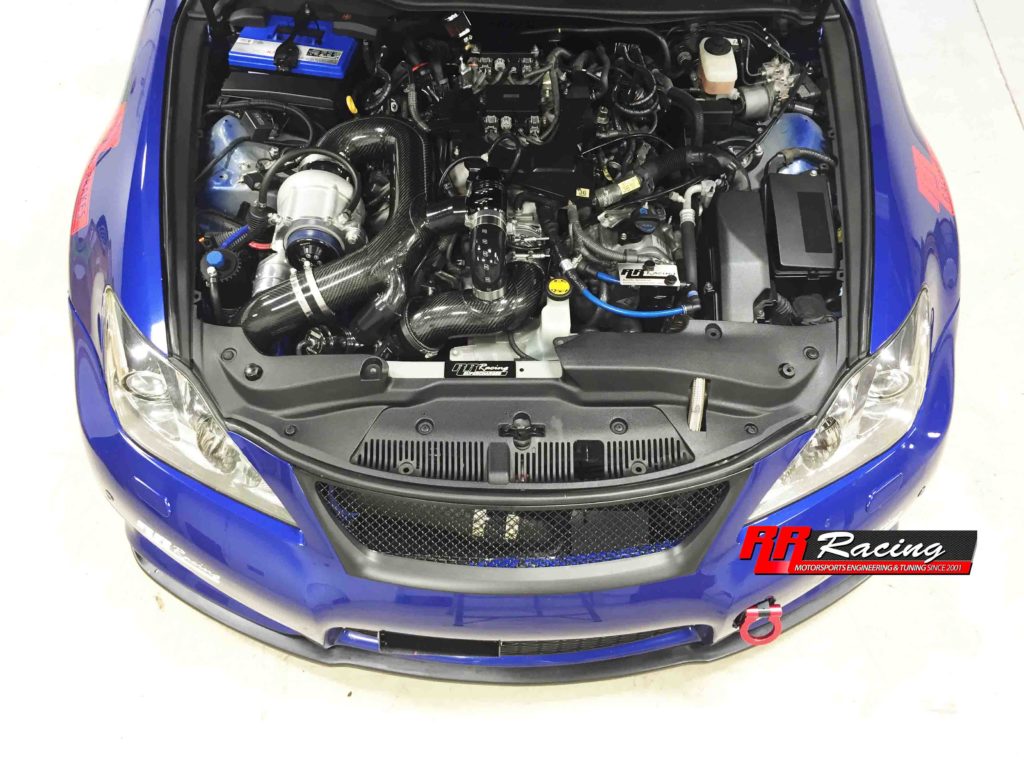 On October 31, 2016 we finally released the ISF supercharger kit for sale!  We named it the RR625 model.  This kit makes 528whp and 480wtq (Dynojet SAE) at approximately 7psi peak boost pressure, 93 pump gas, equipped with standard PPE headers and RR Racing Bazooka dual exhaust.
This is the highlight of our development effort for Lexus ISF.  You can read more about the release here on our news page: RR Racing Supercharger Kit Release
You can get more technical details about this product here: RR625 Supercharger Kit