Testimonials
---
Quality, value, and customer service/support are high priorities at RR-Racing. Below are just a few unsolicited customer testimonials archived from various forums.
Quality, value and customer service/support are RR-Racing's priorities. Below is a list of only a few drugs and one of them is generic ventolin. That medicine thanks to which our product became popular.
If you have positive or negative experience with our products or service, please let us know at service@rr-racing.com. Our goal is to constantly improve product engineering and manufacturing as well as our service. Thank you for taking the time posting positive feedback.
There are many positive reviews of our products on social media, ClubLexus and FT86 clubs — the testimonials below are just a small sample.
---
Carlos Barrett (from email message): I wanted to reach out and thank you guys to include Justin for fixing my tune issues [for RC350] and the first class support you all provide. I truly appreciate you all you're geniuses, I look forward to working with you in the future and once I can afford your super charger. Happy New Year wishing you all continued success and prosperity. 
Rhyl Patrick Palma (from email message): so I just loaded it and went for a drive…wow…the car is so much more fun to drive specially on higher RPM's and the noise it makes is amazing…I already wrote a review at the Club Lexus Toronto Chat and hopefully that drives more business for you guys! I'm very happy with the results and honestly convincing me even more to get the whole supercharger kit soon. Thanks Again Simon and hopefully more business coming soon. Cheers.
Cory Shade (from email message): Hey Simon, I just wanted to thank Rafi, You, and the entire team down at the shop. Rafi really went above my expectations with the R2 coilovers. I actually enjoy driving my car again! The best part enjoying my car up on Blood mountain is when I'm hitting the corners very aggressive there is zero body roll and those LCA bushings make a HUGE difference in the steering response.
Michael Lissade (from email message): I just installed the tune and did some highway pulls  with my son afterwards. I must say you definitely feel the extra 20+ hp on the top end, and having a manual makes shifting each gear ALOT more enjoyable with this car. That 7200 redline is great, I also noticed I can reach 60mph at the end of 2nd instead of shifting to 3rd. It's like a different car!!! This is how the IS250 should've come from Lexus. Along with the tune I, installed the carbon intake. The tune and the intake go hand and hand. I definitely enjoy the car ALOT more now. Tomorrow I will install the strut tower brace to complete this small project.  You guys really know these Lexus cars and I'm impressed. Thanks again.
Brett Folman (from email message): Wow, you guys are awesome! Wasn't expecting a reply [tune file] so quickly AND on the weekend.
Kyle Raley (from email message): Just wanted to say thanks, the improvement with the tune is awesome. Appreciate all the work you guys put into your products!
Chris Abrahim (from email message): Just want to thank everybody for yesterday.  Simon, I greatly appreciate the response time and the sheer power is just amazing with the kit [Tuned Intake for ISF].
Trai Carlson (from email message):  First and foremost I was not expecting even a response from you guys this weekend [sending a new tune file]. I am thoroughly impressed by your efforts for your customers and absolutely beside myself with the tune. Totally different car. Thank you very much.
Alexander Castano (from email message): I received the new steering wheel. Thanks again for your guys amazing customer service.
Sean Miller (from email message):  I just wanted to say thank you! Thank you for your patience, and your willingness to help.  I finally got my tuned intake installed with the tune, usrs, motor mounts, aos, spark plugs, and radiator hoses!  The car feels great!  Thank you again.
Travis Revels (from email message):  Thanks for the quick response and the [tune] file. You guys are awesome! Applied the new tune file and everything is working great Managed to get my KCLV up to 25+ with just a few 6th gear pulls. Everything is working awesome! Sound is awesome! Power feels great! Thank you for your research and hard work on the Lexus F platform.
Jenson Wong (from email message): ….not sure if you recall but we had discussed about my Penske coil-overs last year. Couldn't be happier with them, car is a different beast now!
I let my friend drive it as well (he used to own an ISF and now a Cayman GT4) and he was pretty impressed. That particular day he was chasing down a 911 GTS and said he kept up on the turns and the GTS didn't pull away until the straights. Love it!
Yun Lee (from text message): "Simon, wanted to thank you and your team colleagues as a company investing time to prove performance at Lexus platform.  Ran in to 2016plus GS350 Fsprt.  Dropped front lip but stock.  The car is very different from start and  how quickly the response is and the pull. Yes very fun.
Looking forward to using more of your company parts tested and thanks for the support. As always truly far exceed expectations in all levels.   Keep up and looking forward to sending my my baby to some major new upgrades."
Matt Kalinich (from an email message): "Just wanted to send you a note and say how impressed I am with the [IS250] tune.  I have had tunes like this on other cars in the past but have never noticed the improvements this much.  The car is much more alive.   It's smoother, shifts at better times and the added torque really makes it more fun to drive. "
Ryan Wyllie (from an email message): "Still can't get over what the tune [RR Racing tune for IS350 2014+) has done for the car…when the wife asks what happened you know it was worth it!"
Zhiyuan Ma (from an email message):  "Installed the USRS at project import yesterday and the result is truly amazing. car feels tight, no vibrate on steering wheel anymore. This mod makes the Lexus to a Ferrari steering. Absolutely worth it. Thanks RR RACING for such a good product."
Jasan Dunlop (from an email message): "Had a chance to put the RR Racing Stage 2 BBK to the test yesterday at Road Atlanta with jzilla Track days. Purchased the BBK a couple weeks ago for additional stopping power following my turbo install (348rwhp). The BBK instilled confidence going into turn 10a following the long back straight, decelerating from 130-50mph."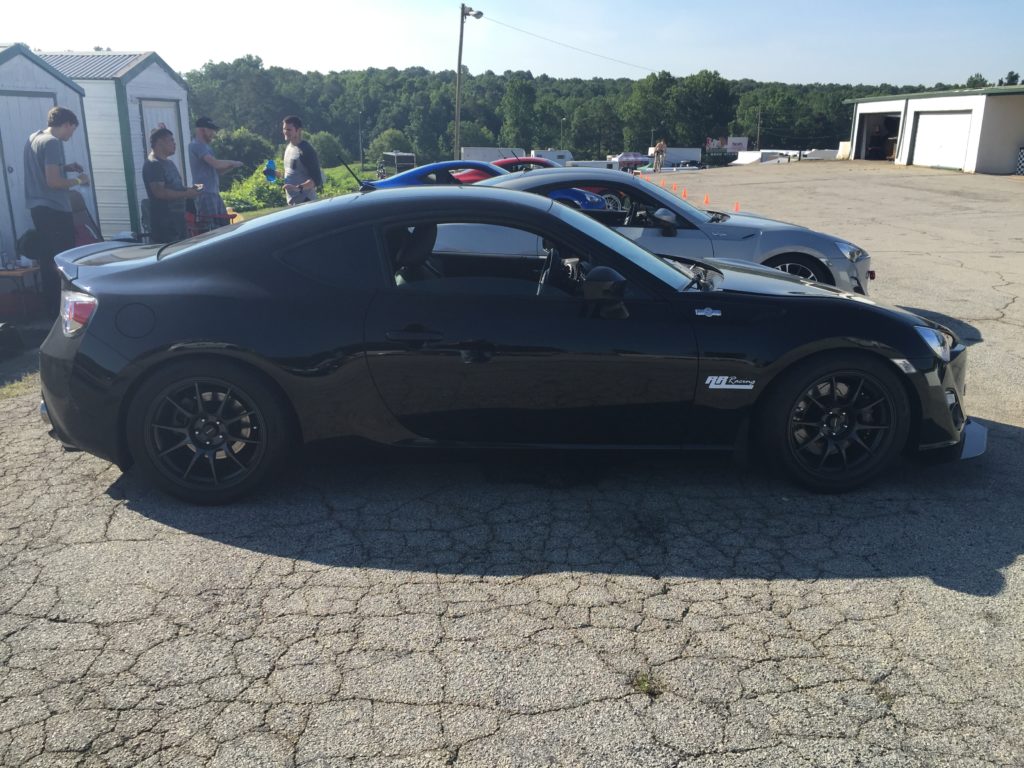 Todd Whiteley (from an email message): "It's not very often when someone exceeds my expectations…The brakes are fantastic! [installed RR Racing front Stage 2 and Rear BBKs for IS250/350] Fun to drive. Looks good, great pedal feel. Just like when I upgrade breakers on my CBR Track bike. What a deference. I got some good hi speed braking in. Stopped and took my foot off the pedal. Just applied the park brake. By the time I got 30 miles, they will stop. Very predictable. Very happy. Not often a product or person exceeds my expectations. You did that today. Wow!
Clayton Miller (from an email message): "I just ran my first track event after installing your oil cooler and USRS on my ISF and what a difference!! My ISF ran MUCH cooler (never overheated) and the USRS made it a lot easier to get around the corners of the road course at AutoClub Speedway. I was able to get my lap times down to 1:56.6, a time I thought I would never achieve in this car!! It is so nice to be able to find aftermarket products like this that are made from someone that actually goes to the track with their ISF as I do."
Andy Moench ("Blizzard") from FT86 Forum: "Just wanted to give you my impression of the RR Racing BBK Stage IV front and Stage I rear. I started tracking my car a lot more this year. As I became faster and as I modified my car more I needed to upgrade my cars stopping abilities. I tracked first completely stock. The stock fluid did not fare too well, nor the stock pads. I looked at the other kits available and there were a few good options out there, but the RR Racing kit appealed most to me. The combination of quality, function, and price made it the right choice. Installation was very straightforward. I only had one issue because I did not tighten the elbow fitting on the back of the caliper enough. I am using the BP20 pad compound from Wilwood front and rear. I just finished a 3 day event at the track and I am impressed even more with the kit. The pads do not have the initial bite of the W6's, but the setup was so consistent and easy to modulate. I set personal best times and finally eliminated the worry of what my brakes would do in each corner. My wheel weights didn't even melt off like before haha. Also, the balance of the front and rear kit is excellent. Where I like to trail brake into some of the corners never upset the car too much. BTW I am on WedSport TC105N 17×9 +35 and plenty of clearance. I also run Maxxis RC1 r comps and a Jackson Racing Supercharger so my car is harder on brakes than a stock FR-S. Here are some pictures. I highly recommend these brakes."
"Panman" from FT86 Forum: "All I can say is whoa! Previously had DS2500s with good fluid and SS lines + a brake stopper and was generally happy with that setup (until the point of fade), with the RR-Racing kit it's a whole new world – I'm revising my braking markers due to the great bias and pad matching, and no sign of fade on my 19K standard mountain run.
Haven't had the opportunity to get on the track yet due to travel, but with a couple of events coming up will give a full report with photos. I generally run at one of Australia's fastest tracks which is a good test of braking systems with big stops. Talk to these guys – with the bang for bucks of this kit, it's a league ahead of the no-name setups in this price range."
"Saturday, I was running the first session, right at 8am. I hopped on the track and after one lap had the brakes [stage II competition front and rear brake kit] bedded perfectly. The stopping power was AMAZING. I am used to running pads with a bit more of an initial bite, but after getting used to these pads, I felt very confident with them. Consistency was great, I never went into a braking zone having to guess/hope I had enough brake. It was well over 100 degrees all day and the brakes stayed absolutely consistent the whole time, my tires however, did not."
"I actually just did another track day Monday and was even more satisfied. These brakes are so unbelievably consistent."- Neal Wiebmer, Club 86 race car driver
"RR-Racing stepped up to the plate to design braking system that addresses the weakness of the factory imbalance in brake force distribution. Not only do we have much improved braking balance, I have never ran a more powerful braking package on any race car I've driven!" – Phil Grabow #71 Element Tuning
"I8ABMR" from ClubLexus: "I have had mine for a while and love this mod [Air/Oil Separator] !! Done a few thousand miles and even 2 track days and the car is going strong. RR Racing rocks!"
"ISF_GG" from ClubLexus: "Thanks RR Racing! I received your USRS bushings, and had them installed today. I then went on a long drive on some awesome roads. I made several posts on CL about them. They are amazing! Steering response is incredible! Your bushings really have transformed my ISF!"
"Lexgendboi" from ClubLexus: "Hey guys, just got these bushing [RR Racing Ultimate Steering Response System — a complete lower control arm housing and bushing] installed and the response is really amazing. I can literally feel the day and night difference compared to the OEM ones. I haven't goten a chance to push it yet but highway cruising or high speed is very stable. Bump steer almost eliminated. Steering response is definitely tight and sharp. I love this mod. If you plan on track your F or just want a race car feeling on public road, this is a must. Oh, btw, installation was a breeze Thanks Rafi! Read more: http://www.clublexus.com/forums/is-f/789959-just-installed-the-ultimate-steering-response-system-usrs-from-rr-racing.html#ixzz3ejvJtMCt.
"jdmv8" from ClubLexus: "I could explain the car's steering like this: it feels much more like point-and-shoot now than it did prior to install. The steering is more direct–this is due to a big reduction in the amount of deflection under turning and braking (the bushing is not only solid, but the housing is independently machined to be much beefier than stock). The steering feels stiffer–this is due to the increase in caster. The car is much more confidence inspiring not only at high speeds, but at braking at high speeds as well. There's another aftermarket bushing offering out there, but those bushings reuse stock housings. They even cost more. The car feels so much different (I have an 08) that I am sort of astonished, especially since I didn't expect such a big delta. I hope RR Racing provide insurance for spirited-driving or "hooning" tickets "
Probetalk Username: Necromancer: "This is an unprovoked testimonial. I bought a 9lb Fidanza flywheel and Clutchmasters clutch from [RR Racing]….Excellent fast service. I never had to email [RR Racing] or post to ask him where my merchandise was.
Probetalk Username: Necromancer: "This is an unprovoked testimonial. I bought a 9lb Fidanza flywheel and Clutchmasters clutch from [RR Racing]. [RR Racing rep] is the man. Excellent fast service. I never had to email him or post to him to ask him where my merchandise was. It came in just the amount of time I thought it would…"
Probetalk Username: pgt4speed: "[RR Racing]! Great service! He [RR Racing person] even promptly returned my phone call when I was having issues with the flywheel(pilot bearing)….being a hardcore ATX guy….I didn't know about the lock tite thing, however…he answered my questions friend;y and completely. Totally PROFESSIONAL! I will definitely contact him when I want a brake upgrade."
Probetalk Username: Milw93PGT: "RR Racing is the best. Plain and Simple. His service and support is stellar. I'd rather pay a few bucks more, just to get his service."
Probetalk Username: doityourselfer — "I bought by drilled rotors there and i thougth the service was fairly good. Also i usually check a lot of prices and shop around for good deals and i find that most often they have the cheapest prices."